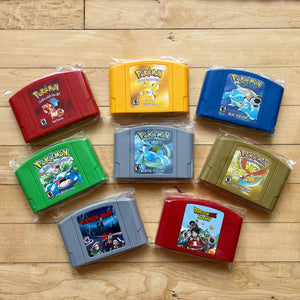 These game requires the Expansion Pak to function properly.
Pokémon games are mod of the classic Game Boy games made to play on the original Nintendo 64 hardware. Plays on US & Canada consoles.
Game cartridge only as you see in the pictures
Comes in a clear protective sleeve
In new and unused condition
Controls:
Control your character with the joystick or the D-Pad.
C-Right button to fast forward.
C- Down button to save anywhere in the game.
Hold C-Up button to load your file.
Pressing C-Down button on the main menu will save over your save file, it's important not to press C-Up and C-Down button.
The KART games are Mario Kart 64 modded with DBZ/HORROR characters and items. 
Expansion Pak requires to function properly.